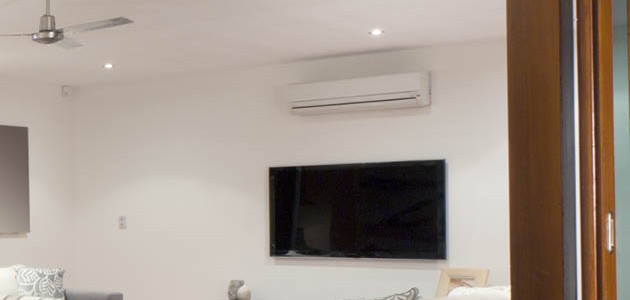 Air Conditioning Installations
Enjoy a beautiful air conditioned home this summer
Coastside Air and Electrical specialises in the installation of split-system and ceiling cassette air conditioning, providing fast, reliable service and the latest, most innovative models. Every installation is performed by a highly experienced air conditioning specialist and licensed electrician.
We take the time to pair you with an air conditioning model that meets your needs – we can install anything up to 18 kW and work with all major brands and models.
Split-system air conditioning installations
If you have room to mount a unit on your wall, our split-system units may be ideal. Please click here to read more about split-system air conditioning.
Ceiling cassette air conditioning installations
While ceiling cassettes are similar to split-systems in functionality, we will usually opt to install these if you lack wall space. Please click here to read more about ceiling cassette air conditioning.
How the installation process works
Step 1: Call (07) 4938 3227 to discuss your unique air conditioning needs.
We don't just install any air conditioning system – we find out exactly what you need and recommend a model and unit that fits your requirements.
Questions we may ask you on the phone include:
Which area do you want air conditioned?
How large is the area?
What kind of home is it? (For example – Fibro or brick? High set or low set?)
Do you have insulation?
Is the area you wanted air conditioned facing the western side?
How old is the house?
By providing as much information as possible, we will be able to form an understanding of your air conditioning needs and tailor a solution. An estimate may also be available over the phone.
Step 2: We visit your property and assess the situation to provide an official quote.
When we arrive at your house we can further consult on your air conditioning needs and assess the area to be air conditioned. From this we can refine our recommendation and quote.
Step 3: Upon acceptance of the quote we can install the air conditioner.
An air conditioning system is then installed into your home – our mission is to provide a faultless installation with a unit that meets your power needs, size requirements and blends in with the décor and design of the room.
Take the first step in the installation of your air conditioner. Call (07) 4938 3227 today.
Contact Us